Closed accounts still hold valuable data when looking at your financial life as a whole, and now you can view and manage those accounts with ease directly from your Empower Personal Dashboard. Reopening closed accounts is easy with the new Manage Closed Accounts feature!
From the Net Worth page of your Empower Personal Dashboard, click the Manage Closed Accounts button near the upper right corner of the Net Worth Graph. Note that this is on the Net Worth page specifically, not on the overview page.
Clicking this will take you to your list of closed accounts. This will show all accounts that you have marked as closed that have not been deleted, grouped by account type. You can also see the closed date and final balance (this will often be zero).

Clicking into any account will open a graph for that account showing 90 days of data ending on when it was closed. You can adjust the dates to show more or less data based on your needs. You can also manage the account directly by clicking the Pencil Icon. This will open a window with the option to Reopen or Change the Closed Date: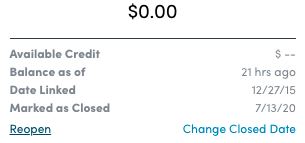 In the case that the account is reopened at the Financial Institution, you may want to re-open the account in your dashboard.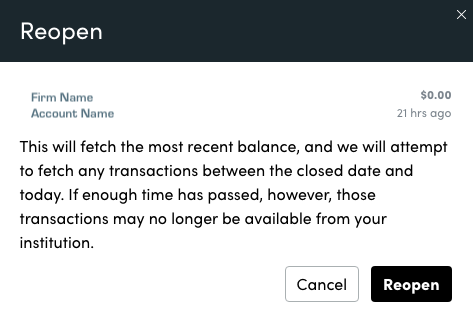 As the dialog box details, when you reopen an account we attempt to refetch transactions. In some cases however we are unable to fetch the data either due to the amount of time that has passed or limitations in place at the institution.
Note: Balance data will not be back-filled. Since historical balance data is not typically provided by the financial institution, we are unable to accurately fill this data. In the case of Investment accounts, performance data will also not be backfilled and will be 0 (zero) for the dates during which the account was marked as closed.